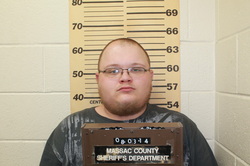 On 08/03/14 the Massac County Sheriff's Office began an investigation involving child pornography. Deputies were lead to 21 year old Andrew Phillips of Brookport. Deputies
located images on a device that they believe to be nude children under the age of 18. Images that were also discovered on the device lead Deputies to believe that Phillips was sexually abusing a minor. Andrew Phillips was arrested and is being held at the Massac County Detention Center on charges of Aggravated Child Pornography and Aggravated
Criminal Sexual Abuse and is awaiting bond to be set. Phillips is a registered sex offender in Massac County. In November 2013, Phillips pled guilty to Possession of Child Pornography in Massac County Circuit Court.