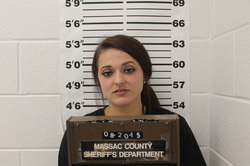 On 08/19/15 Deputies were called to the foot of the Brookport Bridge for a traffic crash. Deputies learned that 23 year old Candyce Champion of Paducah had struck the bridge and crashed as she was exiting the bridge into Brookport. Deputies discovered that Champion had a suspended drivers license. After further investigation, Deputies believed that Champion was Driving Under the Influence of Alcohol. Champion was arrested and charged with Driving Suspended and DUI. Champion was lodged at the Massac County Detention Center.
---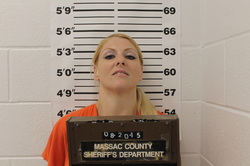 On 08/20/15 a Deputy was driving on 5th street in Metropolis when he observed 32 year old Elizabeth Grounds of Metropolis walking along the sidewalk. The Deputy was aware that Grounds had a warrant out of Massac County for Criminal Damage to Property. Grounds was arrested and lodged at the Massac County Detention Center.
---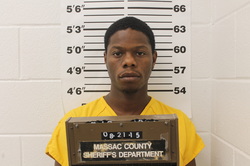 On 08/21/15 Investigators went to Motel 6 in Metropolis to assist Detectives with Paducah Police in investigating a robbery that had occurred in Paducah. A vehicle was located at Motel 6 that may have been used in the robbery. Investigators entered the Motel 6 and discovered a black male had possibly jumped out of a 2nd story window and ran towards the Woodhaven area. It was discovered that the person who ran from Investigators was 26 year old Tawan Weatherford, who had a warrant out of Logan County, KY for Burglary 2nd. Investigators also learned that Weatherford may be armed with a pistol. A search was conducted of the area by the Massac County Sheriff's Office, Metropolis Police Department, Illinois State Police, Illinois Conservation Police, the Metropolis Fire Department and the Department of Natural Resources. Several hours later, Weatherford was located and ran from Officers. Weatherford was caught on HWY 45 by the Motel 6. He was treated at a local hospital for heat exhaustion and later lodged at the Massac County Detention Center on the Logan County, KY warrant. The missing pistol was not located.
---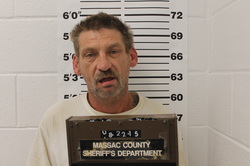 On 08/21/15 Deputies were dispatched to the 7900 block of Unionville Rd. for a report of a Domestic Battery. Deputies were told by the victim that her husband had battered her. The victim had bruising and was bleeding from the altercation. Brookport Officers assisted with the call and found 51 year old Donald Smith of Brookport. Smith was intoxicated and belligerent with the Officers. Smith was arrested and charged with Domestic Battery. He was lodged at the Massac County Detention Center.
---
The preceding information pertains to arrests made by the Massac County Sheriff's Office. These arrests are made on the basis of probable cause and all arrestees are presumed innocent until proven guilty.