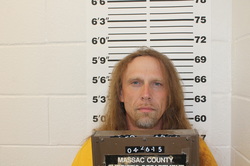 ****UPDATE*****
On 09/23/15 tips were received that indicated that Vick Barrett was located in Paducah. Officers from the Paducah Police Department located Barrett and took him into custody. Barrett was lodged at the McCracken County Jail pending extradition back to Massac County.
************
Vick L. Barrett,36 of Metropolis, has been placed on
Massac's Most Wanted
. Barrett is charged with Escape. Barrett was recently sentenced to the Illinois Department of Corrections in Massac Circuit Court on Meth related charges. Barrett was ordered to report to the Massac County Detention Center to begin serving his sentence. Barrett failed to show. A warrant was issued for Barrett in the amount of $10,000 cash. If you know the whereabouts of Vick L. Barrett, contact the Metropolis Police Department at 524-2310 or the Massac County Sheriff's Office at 524-2912 or through our
TIPS
page.