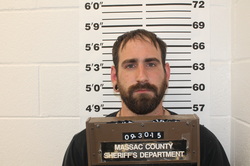 On 09/30/15 a Deputy stopped a vehicle for speeding on Joppa Rd. A computer check revealed that the driver, 26 year old Robert Hughes of Paducah, had a revoked Illinois drivers license. Hughes was arrested and charged with driving on a Revoked Illinois License.
---
On 09/27/15 Deputies were called to the boat ramp in Joppa for an unruly person. Deputies arrived and discovered that 33 year old Christopher Kirks, of Paducah, had been working on a boat in the Ohio River. Kirks was found having a medical episode. It was later determined that Kirks had possibly injested a synthetic marijuana called "K2". Deputies recovered drug paraphernalia along with approximately 70 grams of a substance beleived to be "K2". Kirks was transported to a local hospital for treatment. Charges are pending on Christopher Kirks.
---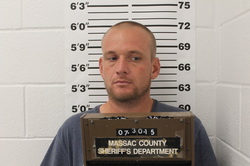 On 10/01/15 Deputies were called to a residence on South US HWY 45 for a person taking items from outside the residence. Deputies arrived and located 30 year old Raymond Derry, of Metropolis, loading his vehicle with items from the area. Deputies arrested Derry and charged him with Theft under $500. Derry was lodged at the Massac County Detention Center.
---
The preceding information pertains to arrests made by the Massac County Sheriff's Office. These arrests are made on the basis of probable cause and all arrestees are presumed innocent until proven guilty.